What is the CopperLan manager?
What for?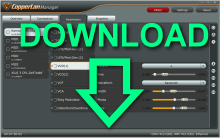 Installing the CopperLan package on your computer(s) will offer you many niceties:
Limitless networking between CopperLan and MIDI applications and hardware.
Connection management of an entire setup from one or more Manager instances (with setting replication).
Universal remote editing of parameters in any CopperLan target without specific drivers or libraries
Setup-wide snapshot and restore of all settings and connections
What else?
The CopperLan package is available for download free of charge. Your feedback in the forum about the Manager is very welcome.
Nike